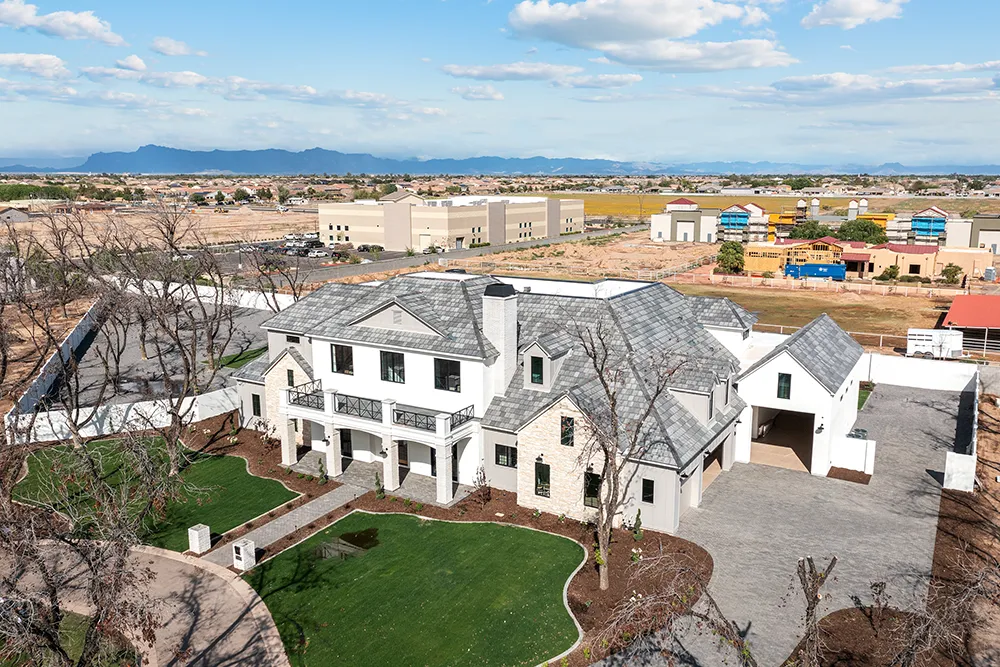 Blending Small Town Charm with Modern Luxury
Nestled in the picturesque desert landscape of Arizona, Queen Creek stands as a vibrant town offering small town charm with modern amenities. Just twenty years ago, the population this little town called Queen Creek was a total of just 3,700 residents. With continued growth it is one of the fastest-growing cities in Arizona. The current population is around 70, 000 residents and growing daily. Queen Creek has become a sought-after destination for residents and visitors alike.
What makes Queen Creek so unique? Queen Creek was first spotted as a fertile valley below the San Tan Mountains that offered a safe location for early Indian Communities and the homesteaders who desired to farm and ranch along the Queen Creek Wash. Citrus, cotton, pecans, vegetables, and other crops are still grown today.
Queen Creek was recently voted as the best city to raise a family in the west. The desire to leave major cities and move into smaller communities with more amenities for families and working parents has made Queen Creek a desired location. Queen Creek caters to families seeking memorable experiences and engaging activities.
Schnepf Farms, a renowned agri-tourism destination, was names as "Arizona's Treasure" in 2006. This farm is not just a place to pick peaches and seasonal fruits you can immerse yourself in a rural atmosphere, ride a rollercoaster and catch the steam engine to tour the property. It is a popular venue that hosts weddings, glamping, and many other activities for all ages. Their most popular events include the Pumpkin and Chili Party, during all months, Christmas at Schnepf Farms, and a huge Fourth of July Fireworks display.
The Queen Creek Olive Mill, a family-owned business was established in 2005. What started as a "foodie's" desire who loves to cook and grow things, became today's farm, market, and eatery. Visitors can not only enjoy delicious food, but they can learn how olive oil is made from branch to bottle with a tour of olive oil production, tastings of delectable treats and numerous shopping opportunities.
For outdoor enthusiasts, the San Tan Mountain Regional Park offers hiking trails, and scenic vistas, creating a perfect backdrop for family adventure. This sprawling park covers over 10,000 acres of desert landscape and is home to a variety of desert creatures.
One of the town's stand out features is its attractive housing options and affordable cost of living. Queen Creek offers a range of housing choices, from spacious suburban homes in well maintained neighborhoods close to parks and shopping, to lavish custom home neighborhoods with estate sized lots of over and acre in size. The Pecans of Queen Creek, is a testament to luxury living at its finest. The neighborhood features sprawling estates blending timeless architectural styles and modern comforts. The neighbor features the award-winning custom home of the year built by Modern Splendor Homes. The Pecans is a true sanctuary of "Building Livable Luxury".
In conclusion, Queen Creek AZ, is a captivating town that offers a blend of small-town charm, modern amenities, and a rich tapestry of experiences for residents and visitors alike. From its flourishing population growth to its diverse range of family-friendly activities, Queen Creek has carved a niche as a sought-after destination. Having the ability to provide housing that fits all social economic footprints leads to the growing population of this once rural farm town. Queen Creek is more than just a destination; it's a place to call home.